Sunday 17th of December 2017
Kanon from An Cafe at OTAKON 2010
Monday, 19 July 2010 18:00

Jhouse-Rock is proud to announce that kanon, from An Cafe fame, will be attending the 2010 OTAKON convention as a special guest. Kanon will participate in panels, autograph sessions, and booth appearances during the weekend, as well as being a guest DJ during the Otakurave dance party. See below for more informatin about this amazing talent as well as kanon's newest venture the cell phone game Pinky Distortion. See our booth "A2" for times and merchandise.
Sat: 1pm-2pm
July 31th, 2010

Booth Appearance
kanon will make an appearance at our booth to meet and greet with fans. Merchandise will be on sale including items from his new video game project Pinky Distortion. Photo session is availalbe with qualifying purchace see booth at OTAKON for details.

Sat: 2:30pm
July 31th, 2010

Pinky Distortion Demo
Join kanon in the game room as we take a look at the Pinky Distortion game.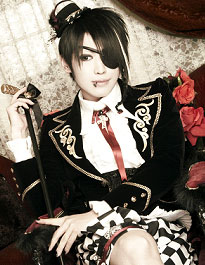 With a signature flamboyant style and Fender Jazz bass, kanon attracted a sizable fan base around the world as part of An Cafe. After a successful world tour and a big final show at Nippon Budokan in January, An Cafe went on hiaitus.
Currently, kanon is the producer for the recently released mobile phone game, Pinky Distortion. Pinky Distortion features DIS;CODE, a visual kei band in search of a vocalist. The player takes the role of a young girl recruited as the band's manager, who must find a way to keep the band together and lead them to their first successful live concert. The game emphasizes kanon's belief that a group of passionate people can create something more amazing than any individual.
Kanon will participate in panels and autograph sessions during the weekend, and will be a guest DJ during the Otakurave, Otakon's nightly dance party.
Besides the app's free sample (first 2 chapters) already available on the Apple Store, special Pinky Distortion T-shirts will be available at OTAKON! A special photo session with kanon is planed for those who purchase the new Pinky Distortion T-shirt. See the Jhouse-Rock/JpopHouse booth for event times and full details.
Pinky Distortion official website http://www.pinkydistortion.jp/pc_english/
An Cafe official myspace http://www.myspace.com/ancafe
Twitter http://twitter.com/studioblue3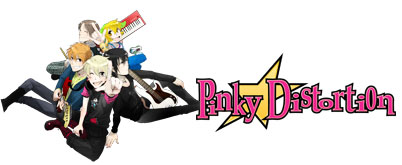 What is Pinky Distortion:
Pinky Distortion is a visual novel game for mobile/smartphones produced by a brand-new label, Studio Blue-3, which was started by kanon, the bassist of Visual-Kei band AN CAFE.
The game involves a Visual-Kei band called DIS;CODE,
with its members having very unique personalities.
The game player becomes the female personal manager to this band.
Guide the band to stardom as you experience Harajuku virtually
and enjoy detailed and realistic situations as produced by the artist himself,
as well as graphics with attention to minute detail and colorful music that add to the production.
* A Visual Novel is a game where you read on and select actions, revealing and enjoying your own scenario.
Pinky Distortion official website
http://www.pinkydistortion.jp/pc_english/
The Story
The player is a girl who works at a rehearsal studio in Harajuku. Her favorite music is Visual-Kei!!
She took this job to be able to get as close as possible to her favorite music, but she still has a lot to learn.
One day, she meets a foursome Visual-Kei band called DIS;CODE. They play great and look perfect!!
But there's one problem. The band does not have a lead vocal. "Aren't you going to recruit someone?"
starts the player off on a quest helping to look for a band vocal.
The band members then meet Hazuki, a band beginner but a singer with a very unique voice. The game player is relieved to have successfully found a vocal, but that's not the end! She hears, "Looking forward to working with you, personal manager!" and ends up becoming the band's new personal manager!
DIS;CODE is five members that not only look very different but have totally different personalities.
Rehearsals of the five members with the new vocal start but hardly smoothly.
There's a lot of trouble up ahead!!
-- Can the player guide DIS;CODE to a successful dream gig?!
Last Updated on Wednesday, 15 June 2011 17:02