Wednesday 22nd of May 2013
AM2 - Musical Guests, kanon x kanon & heidi
Monday, 20 June 2011 15:08

Join us at AM2 as we welcome both heidi and kanon x kanon. This is shaping up to be one of the more music oriented convention with a variety of musical styles. JHRE is pleased to be welcoming the artists to the states for concert events that are sure to win them some new fans. The heidi concert will be on Friday (July 1st) at 4pm while the kanon x kanon show will be on Saturday (July 2nd) at 3:30pm. So be sure to arrive early so you don't miss out on these amazing artists. See below for more information and for full convention details please go to www.am2con.org
kanon x kanon: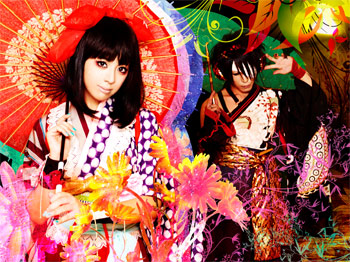 Mystic female cello-vocalist and Akiba-kei male sound creator,
"2.5th-dimension phenomenal musical unit" kanon x kanon kicks into gear!!
You may have seen this male and female duo somewhere before,
but the truth is, they are nonexistent… And now the mystery begins!
Who are kanon x kanon?
Mystic female cello-vocalist and Akiba-kei Otaku male sound creator joined together to form a "2.5th-dimension phenomenal musical unit". The duo's deep affection for anime and anime songs, mixed with their distinctive visual expression, is definitely something new. You say you may have seen these two people somewhere before…perhaps you think they look a lot like Kanon Wakeshima and kanon of An Cafe? …Only in your imagination! These two are intangible products of thought, emerging from the 2.5th dimension that lies between the real world (3D) and the world of Anime (2D) to create Anime songs for our enjoyment.
And now the mystery begins! Their debut single "Calendula Requiem" has been chosen as the opening theme of Fuji TV network anime Shiki (Corpse Demon), which began on October 14, 2010. Obtaining a much coveted right at the beginning of their career shows how much attention they have already garnered!
The new single is based on kanon x kanon's one-of-a-kind, groundbreaking soundscape; using the theme of wa (Japanese style), these two kanons are sure to become a "made in Japan for the world" unit… and this debut song fully proves their ability.
The single has been released on November 17, 2010 in Japan and on November 23, 2010 in USA. There are also plans to release it in Europe (date yet to be decided).
Official Facebook: www.facebook.com/kanonxkanon
heidi: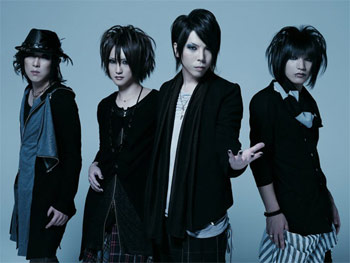 Yoshihiko (Vocals)
Nao (Guitar)
Kohsuke (Bass)
Kiri (Drums)


heidi. (read haiji) is a visual-kei band that started activities with a few secret lives around Tokyo in early February 2006.
Their members are Yoshihiko on vocals, Nao on guitar, Kohsuke on bass, and Kiri on drums. heidi.'s first solo and official debut was June 3rd at Ikebukuro CYBER. This was a free concert called 「birth・day」, which gave the band a chance to show fans what they were made of, earning them the recognition they deserved. Their first single, yuuyake to kodomo/maria, was sold at this live. Their first mini-album, doukoku, sold out quickly even though the band hadn't been around for very long.
They had two songs on the omnibus albums Shock Edge 2006 and SHOCKWAVE CD Edition 6. On November 15th, they released their second single, Clover. This single reached 11th place on the Oricon Indies sales chart.
heidi. were formed back in June 2006 and have had the same four members throughout.
Their focus is on trying to create distinctive melodies that are easy to remember for the fans. Many of their singles have become instant fan favorites that always appeal to the audience at their shows.
Throughout their career they have played on many stages, such as at the "hide memorial summit" in the Ajinomoto Stadium, the V-ROCK festival and Over The Edge, the yearly visual scene countdown event.
They released "Yokan 予感 (Premonition)" as the ending theme song for the anime "Kaicho wa Maid-sama" . It was released in May, 2010 as their first single on a major record label. They also performed the second ending song "∞ (Mugen) Loop (∞ループ)".
Official Website: http://heidi-net.com
Last Updated on Monday, 24 October 2011 19:58