Sunday 17th of December 2017
Kalafina & Hatsune Miku at AnimeEXPO 2011
Monday, 20 June 2011 19:21

Each year Anime EXPO brings talented artists from Japan to play at the convention. This year is no different with Kalafina and Hatsune Miku performing. Kalafina is an all female band whose voices transcend any language barrier. These ladies have performed in America before but welcome the chance to do it again and to make some new fans. Making her U.S. debut is Hatsune Miku the digital idol. Although their won't be a meet and greet with Miku, this debut performance could set the stage for future concerts. Don't miss out on both these great artist. For full information about their concerts and events visit www.anime-expo.org
Kalafina: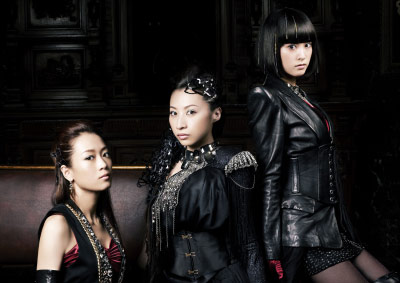 Along with the hit-making sound producer Yuki Kajiura, Kalafina has provided memorable songs for popular anime series including "Kara no Kyoukai – the Garden of sinners," "Kuroshitsuji — Black Butler," and "PUELLA MAGI MADOKA☆MAGICA." Since their debut in 2008, Kalafina has had an impressive string of hits with seven singles reaching the Top 15 on the Japanese Oricon Charts while the group's two albums have claimed #5 and #8 spots.
Since 2009, the group has toured extensively throughout Japan and overseas, building a passionate following that often breaks into a chorus of Kalafina's lyrics. Tickets for Kalafina's most recent tour in Japan sold out within one day. Keiko, Wakana, and Hikaru, the three voices of Kalafina will take the stage of Club Nokia for an exclusive concert on July 2, 2011. Kalafina will also participate in a meet-and-greet, autograph signing and focus panel giving fans multiple opportunities to see and hear from these captivating performers.
Hatsune Miku: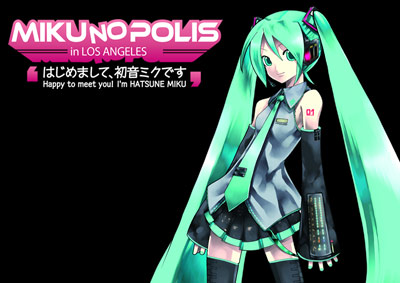 A digital diva famous worldwide for her ankle-length aqua-colored pigtails and distinctive voice, Hatsune Miku will light up the stage at Nokia Theater on July 2nd in her U.S. live concert debut presented by The Society for the Promotion of Japanese Animation, Crypton Future Media, Inc., SEGA Corporation, Tokyo Kawaii Magazine (ASCII Media Works) and Toyota Motor Sales, USA.
Created by Crypton Future Media, Inc. in 2007, Hatsune Miku's voice is synthesized using Yamaha's VOCALOID (= Vocal + Android) software application, to produce a fully synthetic voice with unprecedented quality and remarkable realism by typing in lyrics and setting a melody. To date, her voice has been featured in more than 100,000 songs and videos created and shared by fans worldwide. She has been sampled in CDs, DVDs, games, novels, and figures and her sell-out, computer-graphic-driven live performances have become legendary. Attesting to her unique star power, Toyota selected Hatsune Miku to star in a U.S. ad campaign for the 2011 Corolla.
Click here to add concert tickets onto your 2011 registration!