Sunday 17th of December 2017
exist†trace USA Live Tour 2012
Wednesday, 07 December 2011 00:00

The all girl rock band exist†trace will be coming back to America for a 2012 U.S.A. Tour which will include a stop at Tekkoshocon. This will be the band's first east coast appearance. The tour starts in March 2012 with ticket information to be announced soon. More information can be found at the JapanFiles official site here. Tour sponsored by JapanFiles, Tekkoshocon, and JHouseRock Entertainment.
exist†trace AMERICA TOUR 2012!

Don't miss exist†trace in their first USA East Coast appearance! The all-female visual kei band will perform their indie hits plus songs from their major-label releases "TRUE" and "THE LAST DAYBREAK."

* * * * *




THU Mar. 15, 2012
90-minute 1-man show! with opening act: End of an Era

The Middle East (upstairs), Boston
Doors: 9:00pm

18+ show!
$39.50 VIP Admission
Special VIP-only show to start their first official USA live house tour! Only 200 tickets!
Every ticket holder at the show gets to attend an in-person autograph session w/ the band!

Tickets (start Dec. 20):
http://tktwb.tw/rz0rii

Venue Website:
http://www.mideastclub.com


* * * * *




SUN Mar. 18, 2012
90-minute 1-man show! with The August Infinity and Charetta

Hiro Ballroom, New York
Doors: 7:00pm
Start: 8:00pm

18+ show! (16+ OK with guardian)
$25 General Admission
$45 VIP Admission (limit 100)
- includes early admission and first chance to purchase limited edition merchandise.

Tickets (start Dec. 14):
http://www.ticketweb.com/t3/sale/SaleEventDetail?dispatch=loadSelectionData&eventId=4147825

Venue Website:
http://hiroballroom.com

* * * * *




TUE Mar. 20, 2012
90-minute 1-man show! with opening act: End of an Era

Starlight Ballroom, Philadelphia
Doors: 7:00pm
Start: 8:00pm

All Ages Show! (under 16 req. adult)
$25 General Admission
$45 VIP Admission (limit 100)
- includes early admission and first chance to purchase limited edition merchandise.

Tickets (start Dec. 14):
http://www.ticketfly.com/purchase/event/82327?utm_medium=bks

Venue Website:
http://www.starlight-ballroom.com
End of an Era
Hailing from the now infamous Jersey Shore, End of an Era is an alternative/
electro/rock band that serves as a sonic right hook to Snooki's face. Mixing equal parts of Nine Inch Nails, Muse, and the Sex Pistols…
the band has been taking not only New Jersey, but the entire northeast
by storm since 2006.  With Jeff Wallace (vocals), Jeff Brogan (guitar), Derek Jesse (bass) and Spags (drums), End of an Era had a killer lineup and went to work on the local scene. Not long after, End of an Era had amassed a rabid fanbase and began to hit the road.  From countless tours of the eastern US to playing for 30,000 people at Giant's Stadium to festival dates in Brazil…End of an Era has accomplished much more in a few years as a DIY band than many label bands do in an entire career. In just over 4 years, End of an Era has played over 350 shows and sold 3500+ albums!

ARTIST INFO
•    Band Name: End of an Era
•    Genre: Alternative/Electro/Rock
•    Hometown: Toms River, NJ
•    Members: Jeff Wallace (vocals), Jeff Brogan (guitar), Derek Jesse (bass), Spags (drums)

FACTS
• Winners of the 2007 Bamboozle Break Contest
• Played Mainstage of Bamboozle 2007
• Performed 4 sets in 3 days at Bamboozle 2008
• Played the Maquinaria Rock Fest 2008 in Sao Paolo, Brazil
• Won Best Regional Band in 717 Music Awards (Central PA) in 2008, 2009, and 2010
• Winners of the 2010 JerseyShows Jersey Showdown
• Nominated for an Asbury Music Award for Best Heavy Rock Act and Best Live Show in 2009 and 2010
• Has opened for My Chemical Romance, Muse, Paramore, Linkin Park, The Misfits, Coheed and Cambria,
Snoop Dogg, Biohazard, MxPx, Type O Negative, Nonpoint, MC Hammer, and many more.

* * * * *




THU-SUN Mar. 22-25, 2012
Tekkoshocon, Pittsburgh

$45 General Admission
4-day Event admission includes concert, Q&A, and autograph session.

* daily schedule TBA *
Tickets (on sale now):
http://tekkoshocon.com/index.php/registration.html

Website:
http://tekkoshocon.com

* * * * *


---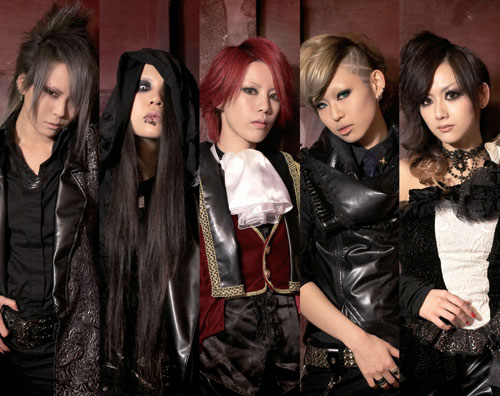 ARTIST PROFILE
Known for dramatic lyrics and their hard-edged double-guitar sound, exist†trace is one of Japan's first all-female Visual Kei rock bands. 

Formed in 2003, the members of exist†trace are Jyou (vocals), Miko (guitar), Mally (drums), Naoto (bass), Omi (guitar). Along with multiple tours of Japan , exist†trace has performed twice in Europe, making appearances in Berlin, Helsinki, Moscow, Paris, London, and Barcelona. In 2009, the band performed at the 2-day V-ROCK FESTIVAL in Chiba, Japan. 

In November 2010, exist†trace released their album "TWIN GATE" in Japan, followed by an American release from JapanFiles. In June 2011, they made their major-label debut with the "TRUE" EP on major Japanese music label Tokuma, and released a second 5-song EP "THE LAST DAYBREAK" in October 2011. exist†trace made their USA debut in April 2011 at Seattle's Sakura-Con festival, performing for 3000 fans at their first American solo show. Their March 2012 tour will be their first USA East Coast appearance, sponsored by JapanFiles, Tekkoshocon, and JHouseRock.

GENRE
Hard Rock / Japanese Visual Kei

VIDEO LINK
http://www.youtube.com/watch?v=Oz1Lv8XGBF0

ARTIST HOMEPAGE:
http://www.japanfiles.com/existtrace.html
Last Updated on Friday, 09 March 2012 18:34