Wednesday 22nd of May 2013
STEREOPONY at Sakura-Con & U.S. Tour
Friday, 30 March 2012 19:58

The STEREOPONY trio are coming back to the U.S. with a performance at Sakura-Con to kick off a mini U.S. Tour.
You've heard their music now watch them live in concert. Not only will STEREOPONY be playing live at Sakura-Con they are also doing a mini Tour right here in the US. Their songs have been featured in many different anime and present a unique style to their live shows. Below is some more information about the band and a link to their U.S. tour.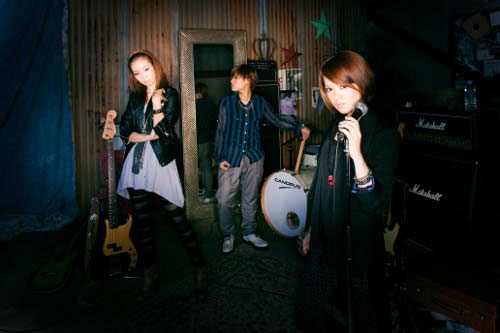 STEREOPONY is a Japanese all-girl rock band that formed in Okinawa in 2007 and will be attending their first Sakura-Con. Consisting of AIMI (Vocal/Guitar), NOHANA (Bass), and SHIHO (Drums) the band gained their first opportunity on the Japanese rock radio program "SCHOOL OF LOCK!"

STEREOPONY should be well known to many anime fans as the artists behind several notable anime themes. Their debut single "Hitohira No Hanabira" was the 17th ending theme for the famous anime series "BLEACH"; released on November 5, 2008 and ranked #25 on the Oricon Weekly Charts. Their 2nd single "Namida No Muko" was the second opening theme for the second season of the Sunrise series "Mobile Suit Gundam 00"; and achieved #2 in the Oricon charts.

STEREOPONY has toured internationally and experienced great success in the Oricon charts. In March 2009, the girls performed in SXSW 2009, and received a thunderous ovation.
Their 3rd single "I do it" is a collaboration with fellow Sony Music Entertainment Japan singer YUI, was released on April 22, 2009. Their debut studio album "A hydrangea blooms" was released on June 17, 2009 and ranked #7 on the Oricon weekly charts. STEREOPONY's 5th single "TSUKIAKARI NO MICHISHIRUBE", also released with a tie-in with the second season of hit anime series "Darker than Black" which ranked #8 on Oricon. After releasing 2 singles, in June 2010, the girls released their much anticipated 2nd studio album "OVER THE BORDER".

"Chiisana Mahou", the opening theme of anime series "Letter Bee REVERSE" was released on December 8th. STEREOPONY collaborated with the band Kariyushi58 to produce the single "Tatoeba Utaenakunattara" released on August 10, 2011. The band's 10th single, "Arigatõ", was released on September 28, 2011. The music video for "Arigatõ", released on September 1, 2011, features film actor Abe Hiroshi; he is also on the cover of the version B release of the single. On October 16th, they announced the planned release of their 3rd studio album.
Last Updated on Friday, 30 March 2012 20:44